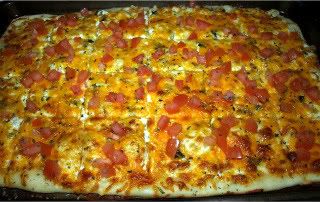 This pizza is da bomb! Everyone will love this recipe.
INGREDIENTS:
1 cup of skim ricotta cheese
1/2 cup of Parmesan cheese
2 Tablespoons Fresh Basil ( I really recommend using fresh ) plus additional for garnish
2 Tablespoons minced garlic
1/2 teaspoon of salt
1/2 teaspoon of pepper
Pillsbury Refrigerated crust pizza
1 cup or more of sharp cheddar cheese
1 cup or more of mozzarella cheese
1 cup of diced tomato
DIRECTIONS:
Preheat oven to 450. In a bowl, combine ricotta, Parmesan cheese, basil, garlic, salt and pepper. Place crust on cookie sheet and top evenly with cheese mixture. Sprinkle with remaining cheese; bake until golden (about 10-12) minutes. Sprinkle with tomatoes and chopped basil.
This is a favorite in our household.