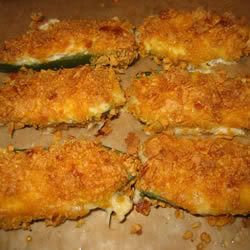 "Sharp Cheddar cheese is the rich, delicious filling for these spicy favorites! They are baked rather than deep fried. You'll want to pop them down one after another!"
INGREDIENTS:
* 1 (8 ounce) package cream cheese, softened
* 1 (8 ounce) package shredded sharp Cheddar cheese
* 1/4 cup mayonnaise
* 15 fresh jalapeño peppers, halved lengthwise and seeded
* 2 eggs, beaten
* 1/2 tablespoon milk
* 1 1/2 cups crushed corn flake cereal
DIRECTIONS:
1. Preheat oven to 350 degrees F (175 degrees C). Lightly grease a medium baking sheet.
2. In a medium bowl, mix together cream cheese, sharp Cheddar cheese and mayonnaise. Stuff jalapeño halves with the mixture.
3. Whisk together eggs and milk in a small bowl. Place crushed corn flake cereal in a separate small bowl.
4. Dip each stuffed jalapeño half into the egg and milk mixture, then roll in corn flake cereal to coat.
5. Arrange in a single layer on the prepared baking sheet. Bake in the preheated oven 30 minutes, or until filling is bubbly and lightly browned.