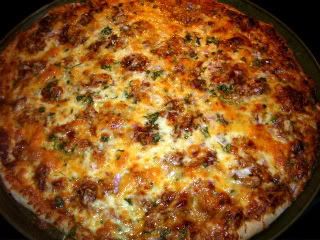 The Crust ( This recipe makes a very thin crust )
1/3 cup plus 1 tablespoon warm water
¾ teaspoon yeast
1 teaspoon sugar
1 cup bread flour
½ teaspoon salt
½ tablespoon olive oil
*If your short on time, use a store bought crust!*
The Topping
1/2 package of Seitan or Vegetarian Chicken
½ cup of BBQ sauce
1½ teaspoons olive oil
1 cup shredded mozzarella (we use more than a cup!)
½ cup grated Gouda cheese (smoked, if you can or just substitute more mozzarella)
½ cup sliced red onion
2 cloves of garlic, minced
2-3 teaspoons finely chopped fresh cilantro (opt.)
Crust
In a small bowl dissolve the yeast and sugar in warm water. Let sit for 5 minutes until the surface of the mixture turns foamy. Sift together the flour and salt in a medium bowl. Make a depression in the flour and pour in the olive oil and yeas mixture. Mix together with a fork gradually drawing in the flour until completely combined. Use hands to form dough into a ball. Knead the dough on a floured surface for 10 minutes, or until smooth. Coat dough with oil and place back into bowl, cover with plastic wrap and keeping a warm place for 2 hours for it to rise. Tip: We normally triple the crust then cut it in half, freeze one, and use the rest for the pizza because we like a thicker crust.
Pizza
Cut the seitan into bite-sized pieces and marinate in 1/4 cup of BBQ sauce in refrigerator for at least 2 hours. Preheat the oven to 500°F.
When the seitan has marinated, heat small frying pan with about 1 ½ teaspoons olive oil. Sauté seitan for about 3-4 minute or until done. Roll out pizza crust and place in pizza pan. Spread remaining ¼ cup BBQ sauce even over the crust. Sprinkle ½ cup of the mozzarella and all of the Gouda cheese over the sauce. Add the seitan, red onion and garlic.
Sprinkle the remaining ½ cup mozzarella around the center of the pizza. Add cilantro. Bake for 10-12 minutes our until crust is light brown