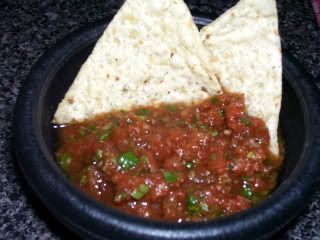 INGREDIENTS:
* 1 27 oz. can of El Pato (I like to use the green can, the yellow one is too hot for me!)
* 1 medium onion, finely chopped
* green onions, finely chopped
* cilantro, finely chopped
* 1 teaspoon of ground cumin
* 3-4 cloves of garlic, crushed
Optional: Add corn, black beans or fresh jalapeños
DIRECTIONS:
1. Place El Pato sauce in a large bowl. Mix all of the ingredients in, listed above. This is a favorite! Enjoy. :)
TIPS: Put El Pato can in fridge before you open it to chill it. Use a food processor to save time, instead of chopping.