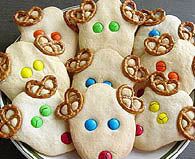 These cute little cookies are sure to be a big hit with the kids this year. Don't forget to leave Santa some with a big glass of milk! Easy to make and super fun to eat. Give some as gifts, great for teachers!
Ingredients:
Pre-made sugar cookie or peanut butter cookie dough
Small pretzel rings
M&Ms
1 bell shaped cookie cutter
Flour
Directions:
Preheat oven to 350 degrees F.
Open cookie dough and mix in about a couple tablespoons of flour to make the dough a stiffer consistency. Lightly flour the table, then roll the dough out to 1/4 inch thickness.
Using the bell cookie cutter, cut out 12 bell cookies - this will vary depending on how thick you roll out the cookies. Lay the cookies, all the same way with bell facing you, onto the cookie sheet. Now, turn the cookie sheet around so that the bells are upside down. This is your reindeer face! Place a red M&M in his nose and one pretzel on each side of his head for the ears. (See photo)
Bake for 10 minutes or until very lightly browned around edges. Remove from oven and let cool on the baking sheet for 1-2 minutes. Remove to a cooling rack to finish cooling.