Need a quick and easy meal that the whole family will love? Try this breakfast pizza!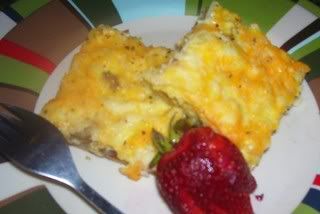 INGREDIENTS
* 1/2 (3 patties) package of Morning Star sausage
* 1 (8 ounce) package refrigerated crescent rolls
* 1 cup frozen hash brown potatoes, thawed
* 1 cup shredded Cheddar cheese
* 5 eggs
* 1/4 cup milk
* 1/2 teaspoon salt
* 1/8 teaspoon ground black pepper
* 1/4 cup grated Parmesan cheese
DIRECTIONS:
1. Place sausage in a large, deep skillet. Cook over medium high heat until evenly brown. Crumble and set aside. (Or pop in microwave for 90 seconds) Preheat oven to 375 degrees F (190 degrees C).
2. Separate crescent roll dough into 8 triangles. Place in an ungreased 12 inch pizza pan with points toward the center. Press together to form a crust. Bottom of crust should be sealed and outside edge should be slightly raised. Spoon sausage over crust. Sprinkle with hash browns and top with cheddar cheese.
3. Beat together eggs, milk, salt and pepper; pour over crust. Sprinkle with Parmesan cheese.
4. Bake in preheated oven until eggs are set, about 25 to 30 minutes.
Add your favorite veggies to this meal or substitute with them instead of the sausage. We sometimes add mushrooms, green peppers, onions or spinach. Whatever we have on hand.