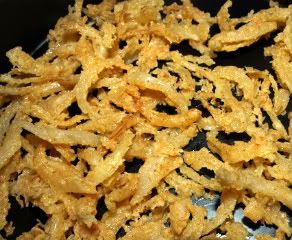 Ingredients:
2 medium onions
2 cups of buttermilk
2 cups of flour
teaspoon of salt
teaspoon of pepper
1/4 to 1/2 teaspoon of cayenne pepper
1 to 2 quarts of canola oil
Directions:
Begin by peeling a large onion and slice it very thinly. So thin, that you can see the knife though the onion slice. Separate the onion rings and put them in a shallow dish. Add your 2 cups of buttermilk. (You can use regular milk and add a couple tablespoons of vinegar if you don't have buttermilk.) Make sure all the onions are touching the buttermilk.
Add your flour to a bowl and a teaspoon of salt. Add your black pepper. Add your cayenne pepper. Stir the flour mixture with a fork and set aside.
Add 1 to 2 quarts of oil to a pot. Heat the oil to 375 degrees. (It will take several minutes)
With tongs remove a handful of onions and dip them in the flour until well coated. Tap off the excess and put them in the oil. Untangle them and let them cook until brown and take the first batch out and repeat. (They cook pretty fast)