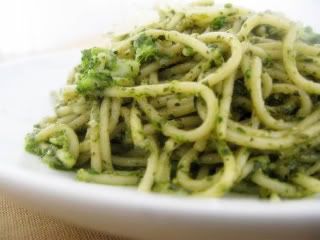 Why not make regular spaghetti for the kids and make this for the adults? Even better with a glass of Chardonnay . : ) If your creative enough, you can make meals that are kid-friendly and adult friendly, without making too many pots and pans to wash.
* 3 cups fresh basil leaves
* 1 1/2 cups chopped walnuts or pine nuts
* 4 cloves garlic, peeled
* 1/4 cup grated Parmesan cheese
* 1 cup olive oil
* salt and pepper to taste
* whole wheat thin spaghetti
DIRECTIONS
1. In a food processor, blend together basil leaves, nuts, garlic, and cheese. Pour in oil slowly while still mixing. Stir in salt and pepper.
2. Cook noodles according to directions of the box and drain.
3. Combine spaghetti and pesto together, or add pesto sauce on top of your noodles. Whichever floats your boat.