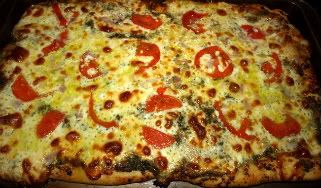 Toppings:
* Ball of fresh Mozzarella sliced in thin chunks
* Pesto w/ Basil 7oz.
* 1-2 roma tomatoes sliced thin
* Red onion finely chopped (as much as you like)
Directions:
Use pre-made dough or make your own. Down below I gave my recipe.
Spray pizza pan with Pam. Roll out dough on pan. Spread pesto sauce all over the crust. Add Mozzarella followed by tomatoes and red onion. Bake at 425 degrees for 20 minutes or until browned. The Pam makes the crust crispy and so delicious!
Crust: (This recipe makes 3 crusts. I like to freeze what I don't use)
* 1 (.25 ounce) package active dry yeast
* 1 tablespoon white sugar
* 2 1/2 cups warm water (110 degrees F)
* 2 tablespoons olive oil
* 1 tablespoon salt
* 6 to 6 1/2 cups of whole wheat flour (start with six and add more if needed)
DIRECTIONS:
In a large mixing bowl, dissolve yeast and sugar in the warm water. Let sit until creamy; about 10 minutes.
Stir the olive oil and 4 cups of the flour into the yeast mixture. Mix in the remaining flour, 1/2 cup at a time, stirring well after each addition. When the dough has pulled together, turn it out onto a lightly floured surface and knead until smooth and elastic, about 8 minutes. Lightly oil a large mixing bowl, place the dough in the bowl and turn to coat with oil. Cover with a damp cloth and put in a warm place to rise until doubled in volume; about 1 hour.
Deflate the dough and turn it out onto a lightly floured surface. Divide the dough into three equal pieces and form into rounds. Cover the rounds and let them rest for about 10 minutes. I like to add flavoring to my crust. Whether it be a flavored oil, pureed garlic or Parmesan cheese. : )