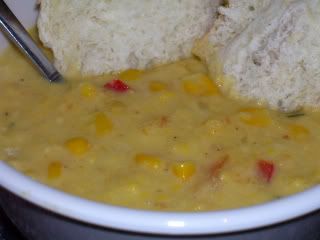 INGREDIENTS:
* 2 cups chopped onions
* 1/2 cup diced carrots
* 1/2 cup diced celery
* 3 tablespoons butter or margarine, divided
* 7 1/2 cups fresh or frozen corn, divided
* 6 cups vegetable broth
* 1 tablespoon minced fresh rosemary
* 2 garlic cloves, minced
* 1/4 teaspoon cayenne pepper
* 1 medium sweet red pepper, chopped
* 1 cup half-and-half cream
* salt and pepper to taste
DIRECTIONS:
1. In a large saucepan, saute onions, carrots and celery in 2 tablespoons butter until tender. Add 3-1/2 cups corn, broth, rosemary, garlic and cayenne. Bring to a boil. Reduce heat; simmer, uncovered, for 30 minutes, stirring occasionally. Cool; process in batches in a blender or food processor until pureed. Return to the pan.
2. In a small skillet, saute red pepper in remaining butter until tender. add to corn mixture. Stir in cream and remaining corn; heat through, stirring occasionally. Season with salt and pepper.