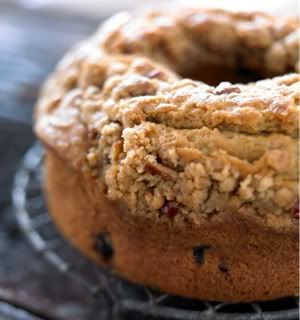 This is so delicious and worth the time of baking it yourself!
Sour Cream-Blueberry Coffee Cake
from: Southern Living
½ cup butter, softened
½ cup granulated sugar
2 large eggs
1 (8 oz.) container sour cream
1 tsp. vanilla
2 tsp. grated lemon rind
1½ cups all-purpose flour
1 tsp. baking powder
½ tsp. salt
1 pt. fresh or frozen blueberries (raspberries, blackberries, etc.)
½ cup chopped pecans
¼ cup granulated sugar
1 tsp. cinnamon
1 cup powdered sugar
4 tsp. milk
1. Beat butter at medium speed with an electric mixer for 2 minutes or until creamy. Gradually add ½ cup granulated sugar, beating 2 to 3 minutes. Add eggs, sour cream, vanilla and grated lemon rind, beating until smooth.
2. Combine flour, baking powder and salt. Gradually add to butter mixture, beating until blended. Pour batter into a lightly greased 9-inch spring form pan.
3. Combine berries, pecans, sugar and cinnamon. Sprinkle over batter.
4. Bake at 350 for 35 to 40 minutes or until a wooden pick inserted in the center comes out clean. Cool in pan on a wire rack for 10 to 15 minutes; remove from pan and cool on wire rack 10 minutes.
5. Whisk together powdered sugar and milk until smooth. Drizzle over cake.
NOTES: (Step 2) I don't have a spring form pan – round cake pans work just fine.
(Step 3) I scoop out a handful of the cinnamon and sprinkle a layer of that first. Then I sprinkle the berries and pecans. It makes the cake look more even.
(Step 5) If I want extra lemon flavoring, I replace some (or all) of the milk with lemon juice.