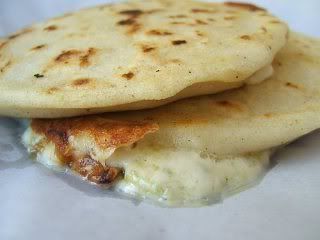 This is an El Salvadorian appetizer that is so good! It takes some practice to make the pupusas perfect, but well worth the try. : ) Serve with curtido on the side to make it authentic! (see below)
Ingredients:
2 cups of Masa
1 cup of water
1 cup of Queso cheese
(4 servings)
DIRECTIONS:
1. Stir the masa and water together in a mixing bowl until smooth; knead well. Cover bowl, and let the dough rest 5 to 10 minutes.
2. Shape the dough into eight, 2 inch diameter balls. On a lightly floured surface, roll out each ball into 6 inch diameter round. Sprinkle 1/4 cup queso fresco over each round. Place a second tortilla over the cheese, and pinch the edges together to seal in the cheese.
3. Heat ungreased skillet over medium-high heat. Place one tortilla into the skillet at a time, and cook until cheese melts and tortillas are lightly browned, about 2 minutes on each side.
Curtido (side for pupusas)
INGREDIENTS:
* 1/2 head green cabbage, cored and shredded
* 1 carrot, grated
* 1 quart boiling water
* 3 green onions, minced
* 1 cup distilled white vinegar
* 1/2 cup water
* 2 teaspoons dried oregano
(4 servings)
DIRECTIONS
1. Combine the cabbage and carrot in a large bowl and pour the boiling water over the mixture. Allow the mixture to steep for 5 minutes; drain well. Return the cabbage and carrots to the bowl. Mix in the green onion, vinegar, 1/2 cup of water, and oregano. Toss until all ingredients are combined. Chill for 20 minutes before serving.
Optional: Add refried beans