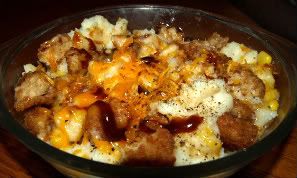 Ingredients:
Mashed potatoes
Sweet corn
Chik'n nuggets (Morning Star)
Brown gravy (Check under my Holiday section)
Low-fat shredded cheese
Directions:
Make homemade mashed taters or if your in a rush use instant, you don't get a gold star for making real ones :). Bake nuggets according to directions. Warm your gravy and corn up. Add mashed potatoes in a serving sized bowl, chop nuggets into bite sized pieces and mix into bowl. Mix in corn and gravy. Top with shredded cheese and drizzle barbecue sauce over top if desired. Morning star nuggets have 40 percent less fat than your regular chicken nuggets!