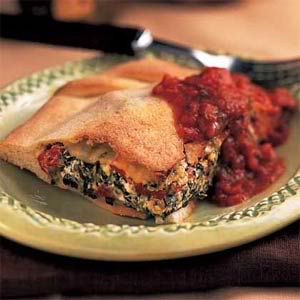 Ingredients:
1 teaspoon olive oil
1 small onion, chopped
1 clove garlic, minced
3 cups coarse chopped fresh spinach
1 cup lowfat ricotta cheese
1/2 teaspoon ground nutmeg
1/2 teaspoon salt
1/4 teaspoon cayenne pepper
1 egg yolk
1/2 cup crumbled feta cheese (2 oz)
1/2 cup of mozzarella
1 tablespoon yellow cornmeal
1 recipe pizza dough or 1 tube refrigerated pizza dough
1 cup bottled marinara sauce (optional)
Directions:
Heat oil in large skillet and cook the onion, covered, over medium-low heat, stirring until softened, about 5 minutes. Stir in the garlic and cook, uncovered, for 1 minute. Stir in the spinach and cook, stirring until the spinach is wilted, about 2 minutes.
Transfer the vegetables to a mixing bowl and stir in the ricotta,nutmeg, salt and cayenne. Then stir in the egg yolk, mozzarella and feta until blended. The filling can be made several hours ahead and refrigerated. (Return to room temperature before using.)
Preheat the oven to 375ºF. Sprinkle a large baking sheet with the cornmeal.
On a flat surface, roll or pat the pizza dough to a rough 12 or 14 inch square. Use a sharp knife or pizza wheel to cut the dough into 4 equal squares. Divide the filling among the dough squares, spooning it onto one diagonal half of each square and leaving about a 1/2" margin all around. Fold the top over to make a triangle and seal the edges by pressing with the tines of a fork. Use a small knife to make three slashes in the top of each calzone to allow steam to escape.
Place the calzone on prepared baking sheet and bake until a rich golden brown, 25-30 minutes. Serve warm with heated marinara sauce for dipping, if desired.
Serves 4.