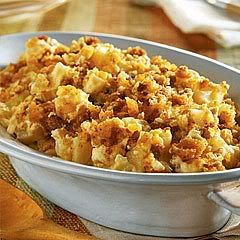 Ingredients:
2 lb. frozen, cubed hash browns
1/4 cup chopped onions
1/4 cup butter
1 can cream soup (cream of mushroom, celery, potato, etc.)
1 cup low fat sour cream
1 cup 2% milk
2 cups of shredded cheddar cheese
1 tsp. salt
1/2 tsp. pepper
Topping:
1 cup crushed cornflakes
5 tablespoons melted butter
Directions:
Mix all ingredients (minus the melted butter and corn flakes) and place in a baking dish. Top with the crushed corn flakes and drizzle melted butter all over top. Bake at 400 degrees for 45-60 minutes or until bubbly!