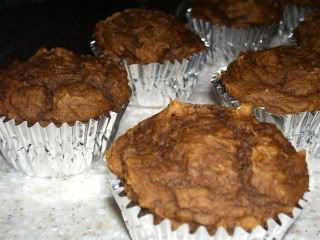 INGREDIENTS:
* 1 (18.25 ounce) package spice cake mix (or any flavor will do)
* 1 (15 ounce) can pumpkin puree
* 1 teaspoon ground cinnamon
* 1/2 teaspoon ground nutmeg
* 1/4 teaspoon ground cloves
DIRECTIONS
1. Preheat the oven to 350 degrees F (175 degrees C). Grease a 12 cup muffin pan or line with paper liners.
2. In a large bowl, mix together the cake mix, pumpkin puree, cinnamon, nutmeg and cloves until smooth. Spoon equal amounts of batter into the prepared muffin cups.
3. Bake for 20 to 25 minutes in the preheated oven, until a toothpick inserted in the center of one comes out clean.
NOTE: Some people like to add water to make it into more of a batter consistency, but either way is fine. You don't have to add the spices, but it adds a nice touch. : )